27. Kai Jeow Moo Saap* (Thai Pork Omelet) ไข่เจียวหมูสับ
A Thai style omelet filled with minced pork and loaded with flavor is awesome with over a plate of rice with a squirt of tomato sauce prik. A kai jeow moo saap is the ultimate in Thai comfort dishes!
28. Kai Yad Sai* (Stuffed Omelet with Rice) ไข่ยัดใส่
Minced pork in a salty and tangy sauce with vegetables wrapped in a thin egg omelet over a bed of rice
29. Kai Jiew Mark*** (Thai Omelet with Basil and Red Onions)
Migration Mark's patented omelet found at a small eatery on Rajavithi Rd. Soi 6 near Victory Monument (Pumpkin Family). If you need it (you do), get in touch. This omelet is loaded with minced pork, red onions, and the Thai sweet sweet basil.
30. Kao Neow Moo Yang* (Grilled Pork Sticks with Stick Rice) ข้าวเหนียวหมูย่าง
sticky rice with grilled pork skewer kebabs, always available everywhere and delicious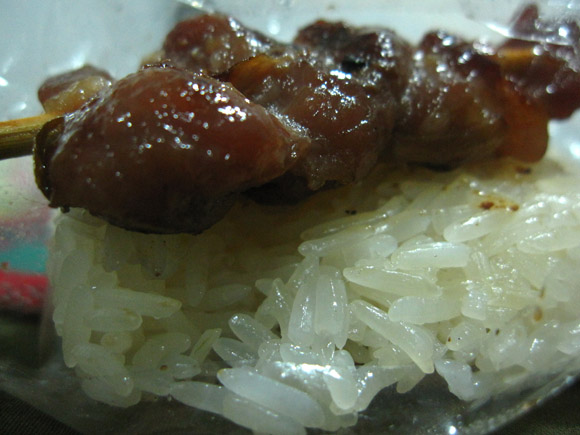 31. Gang Keow Wan* (Green Curry Chicken)

แกงเขียวหวานไก่
Photo guide of 100 of the best Thai dishes - curries, noodles, papaya salad, stir fries, soups, rice dishes, and all other amazing Bangkok and Thai street food.
1. Som tum boo balad
Delicious. Notorious. It's not uncommon to hear Thais bragging about a memorable episode of tong sia after sitting down to another plate of this popular favorite. Say hello to papaya salad with fermented crab, the reigning tong sia champ.
2. Kha gai super
Allow us to call your attention to the word super, suspending any meaning it may have in Thai. Just think of this as a super hot and sour chicken soup loaded with spices and all those under-appreciated parts of the chicken, like the feet. Don't be surprised if the other versions of this popular soup are as fiery red as they taste.
3. Hoy khaeng luek
Warning: To eat this blood cockle dish without the spicy sauce that accompanies it is reprehensible and may offend nearby street food lovers. Go for fresh ones and avoid any shells you're served that aren't open. Credible sources tell us these seasoned and boiled shells are messy before and after digestion, so you've been warned.
4. Gop kratiem pad kra pow
There's nothing out of the ordinary about ordering kra pow, the spicy basil dish you can find at almost any restaurant. Change things up and earn the respect of your local friends by ordering it with onion fried frog. An honest street vendor will not deny you any spice and may even throw in a complimentary roll of toilet paper once you've finished your dish.
5. Som tum hoy dong
Fiery. Vindictive. If you've already mastered som tum boo balad, your tummy may be ready to step up to this plate of pure heat. Mention the papaya salad with fermented mussels and remark at how people cringe and salivate at the same time.